Scroll down for the latest promotion$$$!
Interbets Cash Rewards ! (Tell me more.)
Instant Winner Promotions at branch locations on special holidays & race days
Partner Track Sponsored in-branch Giveaways & Bonuses
February 1-28 ~ Mobile App Match for all new accounts opened this month. We'll match up to $100 of your first deposit with the App after you wager the full deposit with the App.
February 2 ~ Deposit Bonus Event Day for Interbets Members at all full service OTB branches ~ Get up to $25 in Bonus Bucks with qualifying cash deposits made in person at a branch. No coupon necessary. See sign below for more details.
February 3 ~ It's an "OTB Bettor Day" at branches on Super Bet Sunday! Win Free Bets!

EVENT SCHEDULE UPDATE!!!  February 7 ~ The OTB Game event (listed  previously on Feb 1st then 8th) is now rescheduled to this THURSDAY

, FEB 7th

due to Monticello schedule changes.

February 7 ~ Win a Monticello Shirt! Drawing to be held at every full service OTB branch this Thursday. One winner per branch. Winner must be present during the drawing to win or another name will be picked. Details at the branch. Drawing held between Monticello Races 5&6.
Event schedule pending NYS Gaming Commission approval and subject change without notice.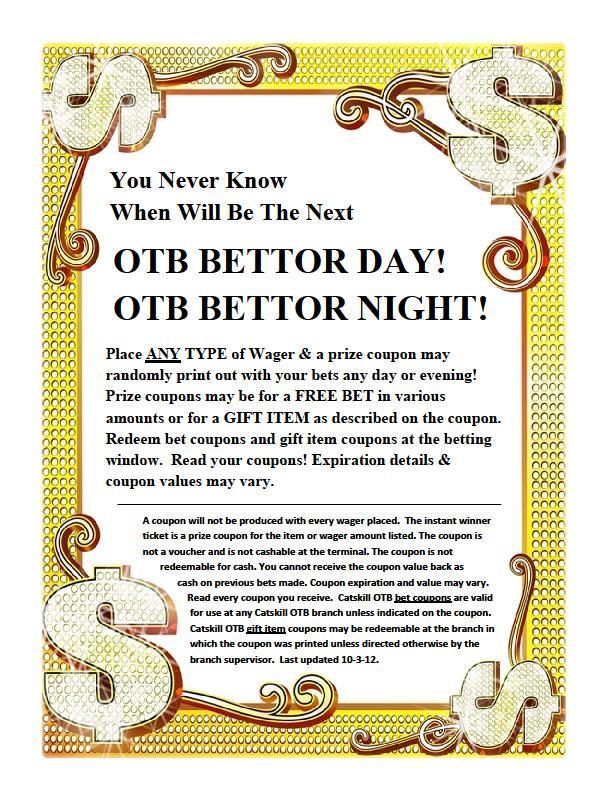 GIVE THE GIFT OF WINNING:

Don't miss a thing!
Sign up for our newsletter now!